What Is the Best Commuting Tool? Car, Bike, E-bike, or E-scooter?
Which vehicles do you use for commuting? How you feel when using them? Getting to and from work in the city can be a painful experience. Choosing an ideal commuting vehicles could be of great help for commuting. So what is the best commuting tool? Car, Bike, E-bike, or E-scooter? Cars, bikes, e-bikes and e-scooters have their pros and cons. Let's compare them in these following aspects.
Cost
Cars are the most expensive vehicles. Cars are not only expensive to buy but also expensive on cost of gas. According to recent data from Cox Automotive, an American automobile big data service provider, the average price of new cars in the United States has reached $42,000 , and the average price of used cars has also soared to about $25,000. According to Consumer Price Index June 2021 from the US Department of Labor, used car prices have risen by 45% in 12 months, accounting for more than one-third of the overall increase in consumer prices in June. Likewise with the reduction of oil resources, global oil prices continue to rise. Although Biden has announced the release of oil reserves to combat high energy prices, it can only produce short-term effects and cannot solve the problem of high gas prices. Bikes are the cheapest one because there is no drive motor. E-Scooters are cheaper than e-bikes, they start around $400-500 or so. Good quality e-bikes are not cheap to buy – but they often will save money in the long run. They normally start at $1500-2000 in price.
Range
It has no doubt that cars have the largest range. There are many gas station where you could fill your cars up whenever you need. You could drive it as long as you have enough money and give your car fully filled up. But sometimes, parking seems to be a problem. Likewise, bikes need no driving helps except human strength, which could be high pressure during a long journey . As for e-bike and e-scooter, the amount of range you get from your e-bike or e-scooter battery is determined by several factors- the amount of capacity the battery has , how fast you travel, and how many uphill sections you traverse. However, e-bikes are the clear winner if range anxiety is a factor for you. Pedal-assist e-bikes mean that you do half the work and electric motor does half work, while e-scooters must do all the work, all the time, to move forward. HJM electric bikes, equipped with 48V 750W motor and 48V 14Ah (672Wh) LG Li-Ion battery, are the typical pedal-assist e-bikes, which could be a good choice for commute.
Speed
For speed, the fastest road in America is a 40-mile stretch of a toll road between Austin and San Antonio that legally allows car drivers to travel at 85 mph. Speed limits in America basically range from 55-85mph. While in the US e-bikes commonly go up to 28mph (45 km/h). You can travel even faster than these speeds under manual pedal power. If you wish to travel faster, you can get an HJM e-bike but keep in mind you'll need a license at least six states—Alabama, Alaska, Massachusetts, Missouri, New Mexico and North Dakota, typically because they still fall under the designation of another motorized vehicle classification with licence and registration requirements and have not had a distinct e-bike law created. Most affordable E-scooters travel up to 20mph in the US (some expensive models go up to 40-55mph). Bikes' speed limits depend on how fast the riders could be.
Comfort
Cars are most comfortable whether on uneven ground or smooth ground because of requiring less energy and smoother ride. Car seating, belt, and car space make journey on a car more comfortable as well. Bikes are the least comfortable, because riding a bike depends on human strength and could be a big problem in a long journey. E-bikes are more comfortable on uneven ground. The larger wheels make them fit different terrain, while sitting means you don't get leg or feet cramps. HJM Toury and Step-thru are equipped with 26*4.0 all-terrain tires which help riding more comfortable and will be a good choice for winter cycling. Likewise, riding a pedal-assist e-bike is surprisingly comfortable in mild or colder weather – provided you wrap up warmly! On an e-scooter, driving on cobblestones or other bumpy surfaces almost impossible for more than a few paces. Staying warm in the winter is a much bigger challenge on a e-scooter as you're just standing on the footboard, particularly in windy weather or in winter.
Exercise/Sweat
You don't get any exercise on cars and electric scooters so that sweating isn't a concern on cars or electric scooters. You could get a lot of exercise by riding a bike because of the special driving motor—strength of human beings. You will sweat if you ride it to a very faraway place. Hills and uneven ground will increase the chance of its happening. Pedal-assisted e-bikes are a great way to get exercise. You will sweat somewhat on a pedal-assisted e-bike, especially in warmer weather, and where there are lots of hills, if you ride quickly.
Cargo
Cars has the biggest cargo payload. That is because they usually has the biggest size and much more space to pick up items, like car inner space or areas above the car. Bikes sometimes can only be used as tools to get from A to B. E-bikes have a wide range of options for carrying cargo and luggage, from baskets, trailers, to dedicated cargo electric bikes. If you have the need to carry cargo frequently, and wish to use your electric bike as a car replacement, HJM Transer cargo electric bike, is a fantastic option. E-scooters have limited cargo capacity compared to e-bikes, however additional storage bags can be added.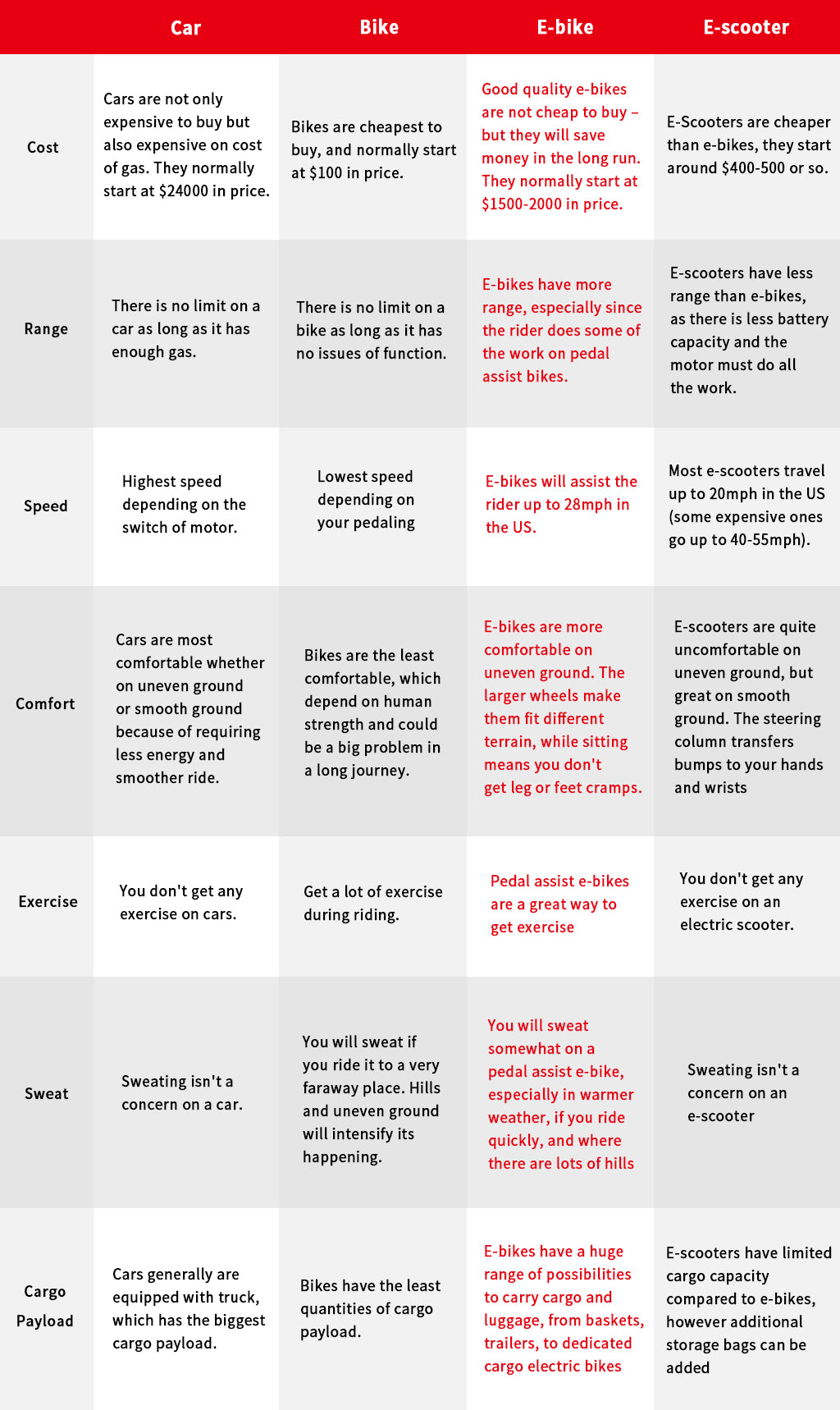 Conclusion
Cars, bikes, e-bikes and e-scooters have their pros and cons. Using a car in heavy traffic and parking it is costly, time-consuming, and stressful. Riding a regular bicycle can mean arriving to work covered in sweat. E-scooters have limited cargo carrying capacity. If you want to get to work more quickly, on hilly ground, over longer distances, and carry occasional loads – an e-bike is the better, more flexible option.