HJMBIKE Transer Cargo Electric Bike with Long-life Battery
What Is A Cargo E-Bike?
Bikes are not designed to carry much stuff except you and your backpack. For that matter, cargo bikes emerged on the market. So, what is a cargo ebike? As the name suggests, a cargo ebike is an electric pedal cycle that has been specifically designed to carry more oversized items (or even children).
     Cargo ebikes are increasingly being used in day-to-day life. They're also great for doing grocery shopping, delivering food, taking a couple of kids to school, or anything else that requires you to carry more stuff. It is convenient, and you don't have to look for a parking space.
Advantages of Cargo Electric Bikes
      If you commute to and from work, have fun activities like meeting up with friends, grabbing a coffee, or even going to the gym by bike every day, but often you have more stuff to haul. Or maybe you are piling on children's knapsacks, school projects, extra sweaters, snacks, and even their bikes because they're too tired to ride home. You could consider a cargo electric bike, and it can benefit you in many ways.
      Less cost. With a cargo ebike, first and foremost, it cost very little to purchase than cars or trucks. Then, with the reduction of oil resources, global oil prices continue to rise. Although Biden has announced the release of oil reserves to combat high energy prices, it can only produce short-term effects and cannot solve the problem of high gas prices. In the longer term, people have to reduce reliance on oil and shift to clean energy. Electric bikes will become an increasing trend in the future, and you don't have to pay for gas, which costs very little to use. Lastly, the cost of ebike maintenance and repairs is a fraction of what it would cost on a car or truck.
      Save times. As physical and financial constraints are removed, and it has more freedom over deliveries thanks to smaller parcels and transport size, it enables goods to be delivered faster. And if you use cargo ebikes, you don't need to worry about parking, which will enhance time efficiency by better-utilizing space. If you need to buy goods near a grocery, a cargo electric bike is mainly a good choice.
     Improve safety on roads. It is reported that most accidents occur because of cars. Cargo electric bike has much diminutive size, and its motor is not as big as cars or trucks, there are fewer accidents, and even, unfortunately, that thing happens, the damage created by it is lower than cars or trucks.
      Eco-friendly. Cargo electric bike uses electricity as their motive power, which will reduce carbon emissions. That is helpful for significantly reducing air pollution.
Types Of Cargo Electric Bikes
      There are a few different types of cargo bikes. The most common are box bikes, a longtail bike, a trike, or a mini cargo bike. Each one of them has a different placement for the cargo box. Just by looking at them, you will know which one will suit your needs.
      While these days, there are varies of cargo ebike, most cargo bikes fit roughly into the following four types:
     Cycle Trucks—have a smaller front wheel (typically 20″ compared to a 26″ rear), with a front rack affixed to the frame over the wheel. The rack either has a box mounted to it or has mounting options for when you need the container and space for when you don't.
     Longtails—have an extra-long wheelbase at the back, accommodating an extended, built-in deck to carry cargo or children.
     Bakfiets/Box Bikes—have an extraordinarily long wheelbase at the front and a smaller front wheel, with the cargo area or an attached wooden basket sitting low to the ground between the handlebars and front wheel.        
     Cargo Tricycles/ Cycle Rickshaws—usually feature an elongated frame with two wheels at the front or back for added stability, with a cargo platform, box, or seat between the two wheels.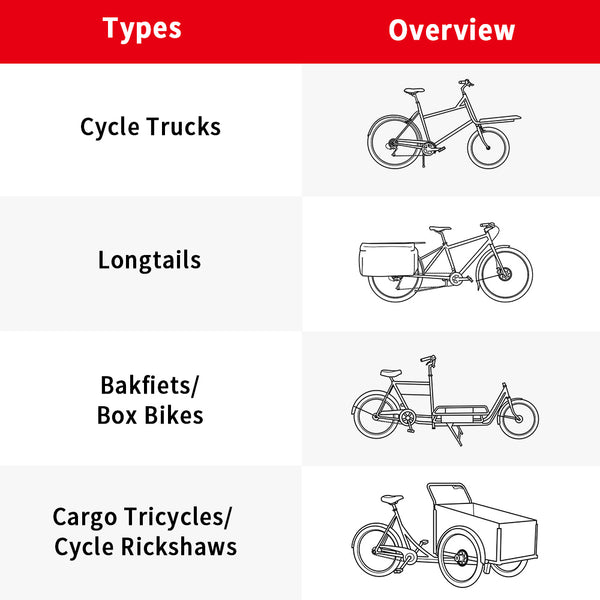 The pictures show that cycle trucks, bakfiets/box bikes, and cargo tricycles/cycle rickshaws have a long or heavier front frame than longtails, which makes riding not convenient if riders put too many items on it. While longtails also could equip basket on the front if riders need.
      Have you ever worried about running out of battery during the journey or on the way to delivery? Or the missing screws? Now HJMBIKE's new Transer cargo electric bikes help you solve these problems.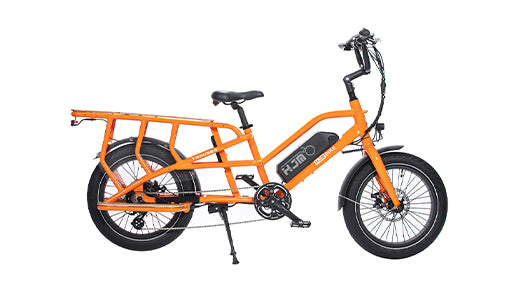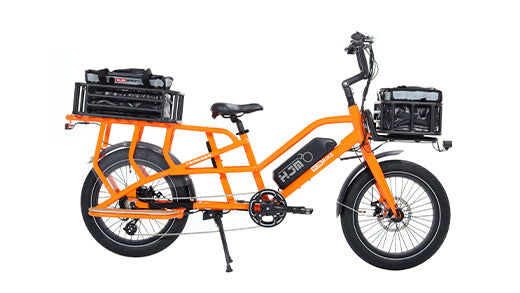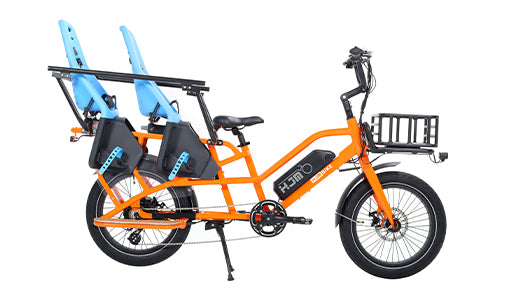 HJMBIKE Transer cargo electric bike has a unique monolithic frame construction design, which will reduce the use of screws. The rear rack is not just a kind of electric bike accessory. Transer makes the frame and rear rack together, which increases the beauty of the bikes and dramatically improves the payload capacity. As a patent frame, the Transer frame has passed a total of 300,000 fatigue tests in the horizontal, vertical, and pedaling directions. 6061 Aluminum makes the Transer more solid.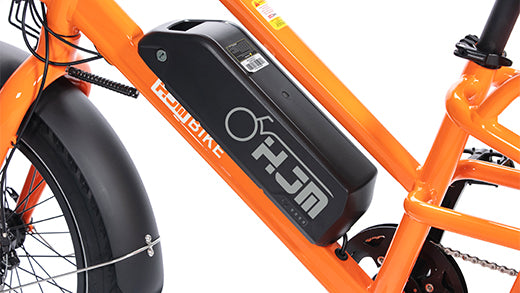 Meanwhile, HJMBIKE Transer equips a large-capacity battery—LG 48V 14A battery. Transer supports two battery which users could install and shift when a battery runs out. The large-capacity battery ensures long-distance riding or long-term riding needs. BMS battery systems ensure the battery is in good condition and extend its lifetime. The special removable design of the battery makes charging and storage easier. If you are a delivery man, two large-capacity help you feel relaxed on the way to delivering. It would help if you never worried about running out of battery the way to the destination.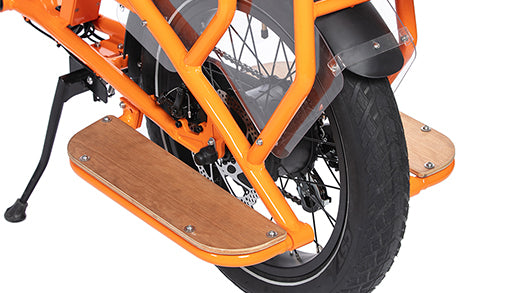 What's more, the Transer possesses a footplate of a strong holder. The broad support mental base and precision-processed wooden boards allow the passengers' feet in the rear to be stably placed on the footplate. Transparent protective covers on both sides of the rear wheel can prevent clothing or debris from getting involved. Family with children could get their children into school by riding Transer.
     HJMBIKE Transer cargo electric bike aims to make people—such as families with children, delivery men, people who need up-close transportation or grocery shopping, more convenient. If interested, please check 👉HJMBIKE Transer cargo electric bike.
     Here is the info of the HJM Transer cargo electric bike.