HJM Toury VS Himiway Cruiser VS Radpower Radrover
When these three bicycles are put together, many people's first reaction is, of course, to compare the price. But in fact, we need to realize that the price of vehicles and the cost we pay can not be generalized. The price is the price of this eBike. The amount you need to pay when you buy it on the official website is a one-time payment. Different from the specific price, the cost you need for an eBike is invisible. For some projects, an example is an additional equipment, such as a bike basket and mobile phone bracket. To get the perfect experience, you may pay an extra amount in exchange. So from a practical point of view, the price of an ebike is its own price plus the cost of maintenance and optional accessories.
Now let us compare HJM Toury with Himiway Cruiser and Radpower Radrover.
Comparison of main features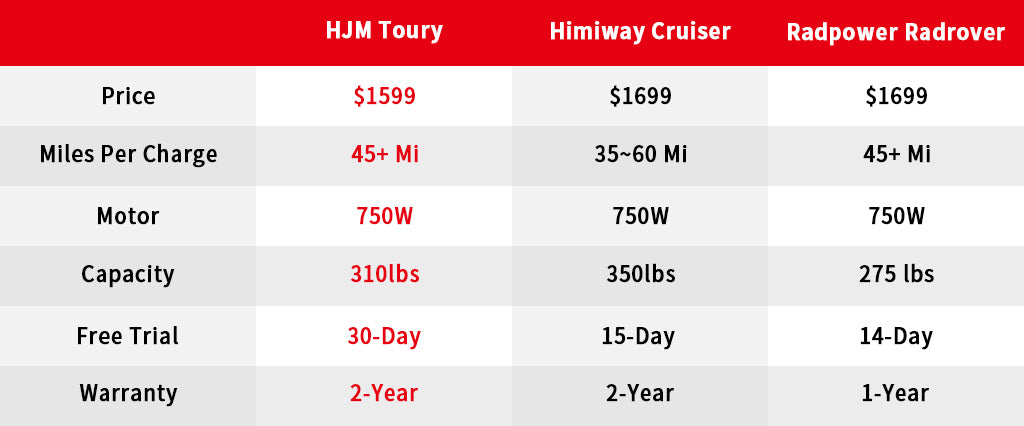 As you can see, Toury is a cheaper choice but equipped with the same motor as Cruiser and radrover, which performs well on riding.  In response to the voice of the majority of buyers, we provide additional one-year warranty protection and 30 days of free use. We can confidently say that the quality of our eBike parts is very high, so we can safely extend our warranty period, which is longer than that of our competitors. We believe that the majority of consumers can be satisfied.
Electrical comparison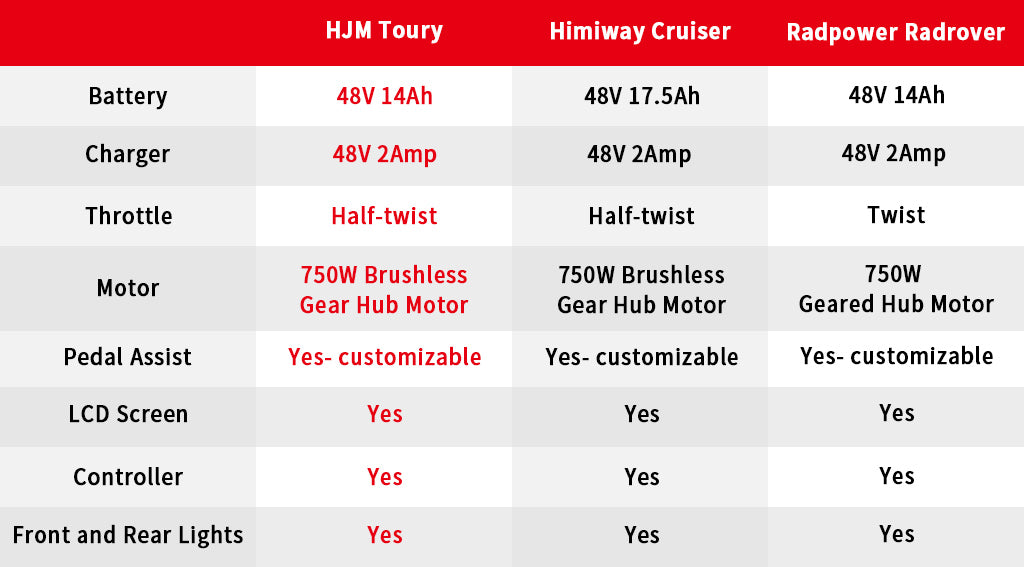 As the picture shows, HJM Toury and Himiway Cruiser are both equipped with a brushless motor. The most direct advantage of a brushless motor is that there is low noise and smooth operation. The brushless motor has no brushes, and the friction force is greatly reduced during operation. The operation is more smooth and the noise is much lower. Likewise, a brushless motor has a longer life and needs lower maintenance costs.  From a mechanical view, the brushless motor is almost a maintenance-free motor. When necessary, it is enough to do some dust removal maintenance.
Mechanical comparison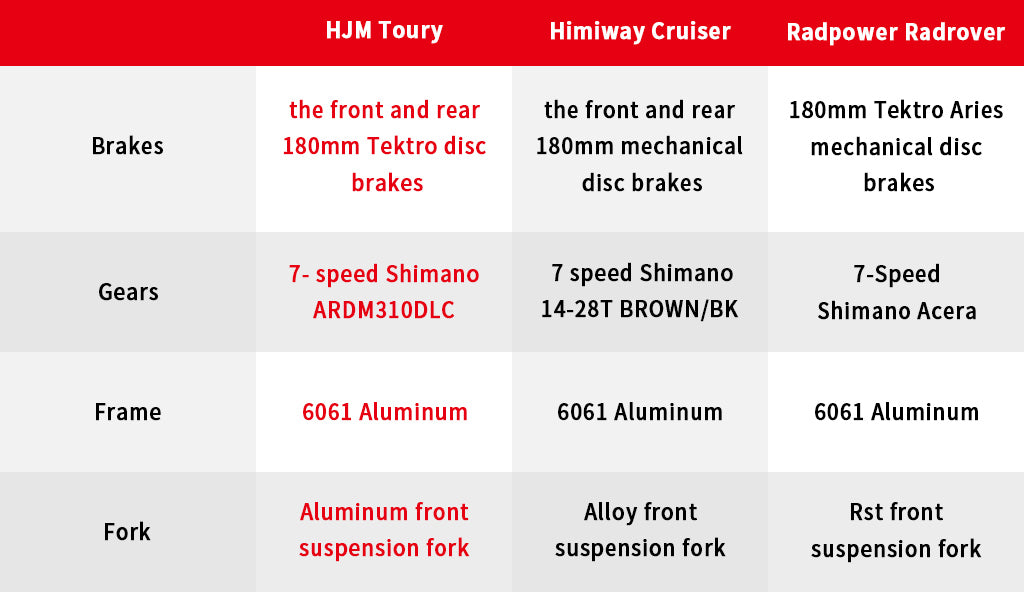 Physical comparison

Although Himiway Cruiser and Radpower Radrover are relatively suitable entry-level ebike, they can't be compared with
Toury
when they are designed for comfortable riding. We can clearly see
Toury
's advantages: all terrain fat tires can cope with harsh terrain. The all-terrain tire is that we hope consumers can shuttle back and forth in cities and mountains at will to achieve environmental friendliness. Bike body and handle with comfort and functionality at the same time. 
Conclusion
In addition to considering the total cost of buying an ebike, we should also consider the frequency of using an ebike. At the same time, an ebike that can supports you to shuttle through the city's traffic flow every day certainly needs strong durability. Therefore, it is crucial to choose high-quality and durable products you want to use repeatedly.
HJM produces electric bicycles with high-cost performance, high quality, powerful function, and beautiful appearance. It will become a powerful assistant for your daily work and save you money and energy cost. Not only that, HJM also provides a 2-year warranty (which is twice that of many of our competitors) and a 30-day free trial. These factors make Toury your first choice in this comparison.If this is still not enough to impress you, you might as well try to check our customer comments and see the guests' views and satisfaction with our Toury. For more information about HJM Toury, please check our official website: www.hjmbike.com.